James Tiptree Jr — Two Great Novels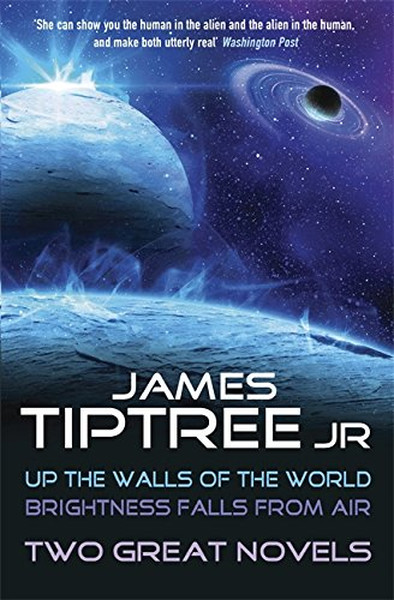 James Tiptree Jr, Two Great Novels, 2016, 702 blz.
Up the Walls of the World, 1978
Brightness Falls From the Air, 1985
Gekocht: november 2016, Van der Velde 3
Uitgelezen: december 2016
★★★★☆
Alice Bradley Sheldon, who wrote most of her science fiction under the name James Tiptree, Jr, was a master of the short form, winning two Hugo Awards, three Nebulas and a World Fantasy Award for her short fiction. This omnibus contains her only two novels.
Ik kocht dit boek omdat ik wel weer eens echte sf wilde lezen. Even helemaal weg van het nu. Het eerste boek, Up the Walls of the World, brengt je zo ver weg dat ik aan het eind snakte naar alledaags realisme. De zweem van New Age ligt mij niet zo goed. Bijzonder en meeslepend is het wel.
Het tweede boek, Brightness Falls from the Air, is meer "down to earth", al speelt het aan de uiterste rand van ons melkwegstelsel. Het is vooral een spannend verhaal.