Stephen R. Foster, Lindsey D. Handley — Don't Teach Coding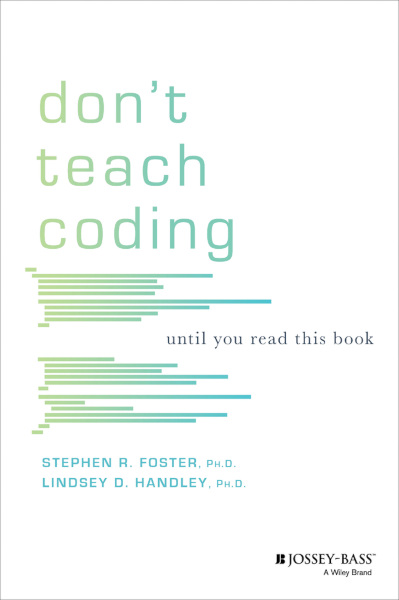 Stephen R. Foster, Lindsey D. Handley, Don't Teach Coding — Until You Read This Book, 2020, 264 blz.
Gekocht: juli 2022, Amazon.de
Uitgelezen: juli 2022
★★★☆☆
Een raar boek. Deels Zweinstein-vertelling. Deels geschiedenis van het programmeren, beginnend ver vóór de tijd van de computer. Deels verhandeling over het onderwijzen van programmeertalen en natuurlijke talen. Deels over didactische methodes. Niet over één programmeertaal in het bijzonder, maar wel gelardeerd met voorbeelden en oefeningen in een speciaal voor het boek ontwikkelde taal (met variaties) die je kunt draaien in Racket.
De Zweinstein-vertelling is grappig. De geschiedenis is boeiend. Het didactisch verhaal heeft wat interessante dingetjes over werken met flashcards. Verder is het mêh.
Er wordt veelvuldig verwezen naar een forum voor dit boek, waar het zou bruisen van discussie en uitwisseling van code en ideeën. Het blijkt om een facebookgroep met drie leden te gaan.
Blurp op website:
Look. It's true: Coding is the critical skill of the next century.

And there's no doubt in anyone's mind (including ours) that it should be taught.

But there's a paradox:

To be the best teacher, you can't always be teaching. Sometimes you have to stop and think.

Don't Teach Coding is a book with a provocative title that asks you to do one simple thing: Stop for a moment and reflect on what it means to teach coding in the upcoming century.

As a society, we can't afford to get this wrong.